"I take one daily with dinner and find it very helpful with digestion."
Barbara D, Verified Buyer
"My gut feels more comfortable after taking this with food."
Caleb W, Verified Buyer
"I immediately could tell they were working."
Rene M, Verified Buyer
"It's pretty rare to find a product that covers so many enzymes."
Leonie K, Verified Buyer
Why You'll Love
Pure Enzymes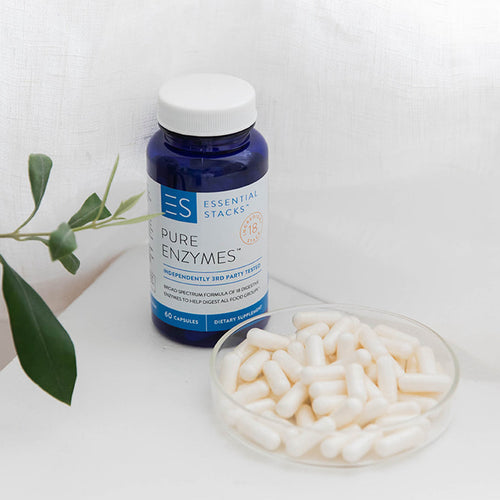 1.

Smart combination of 18 digestive enzymes

2.

Designed to digest all foods, from carbs to fats to protein

3.

Plus specialist enzymes to digest sugar, dairy & gluten

4.

Vegetarian friendly

5.

No allergens - verified gluten, dairy & soy free
Take 1 Capsule, With Each Main Meal
Take 1 capsule at the beginning or during your meal
Works for any type of meal or snack - carbs, protein and fats
If digestion does not improve from 1 capsule, speak to your healthcare professional about increasing serving size
Shelf stable formula - does not require refrigeration
Hear What Our Experts Think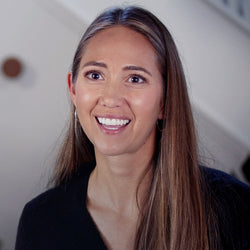 RDN
Richelle Godwin BS, RDN
Registered Dietician (RDN)
It even has peptidase DPP-IV enzymes, which may support the breakdown of gluten, to help people who may be sensitive to this.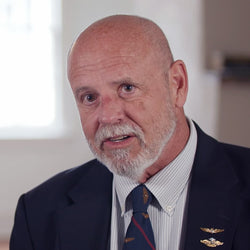 MD
Dr. Joe Haines MD, MPH
Medical Doctor (MD)
Taken together, this blend can support the digestion of all food groups and help unlock the micronutrients within the food we eat. So although we encourage people to eat a gut-friendly diet most of the time, we are also realistic, and have made sure that Pure Enzymes can keep up with the variety of meals one might consume throughout a week.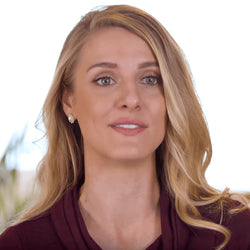 RDN
Bailey Franzen MS, RDN
Registered Dietician (RDN)
In an industry where enzymes are often made by using ingredients that are common allergens such as wheat and dairy, I love the fact that Pure Enzymes is verified as a gluten, dairy and soy free product by an independent 3rd party laboratory. It is also, vegetarian based, making it suitable for people with such dietary preferences.
Frequently Asked Questions
How To Use
Allergen Free Info
Who It Is For
When should I take Pure Enzymes?
For best results, take it at the start of each meal. And if you're an imperfect human being and forget to take Pure Enzymes at first bite, don't stress out. As you can take it anytime during your meal. But do try and remember to take it just before that first yummy nibble.
How should I take it?
Swallow it in capsule form. For optimal results, do not open the capsule.
How many capsules should I take?
Start with 1 capsule per meal and notice how you feel. If you find you need a little extra support digesting your food, you can take 2 capsules per meal.
How many servings / days supply?
Each bottle contains 60 capsules. A serving size is once capsule. If you eat two main meals a day, then one bottle will last 1 month.
How should I store this?
Pure Enzymes does not need to be refrigerated. Store it in a cool, dry place.
How long till I feel a noticeable difference?
Pure Enzymes supplies your body with extra enzymes. So unsurprisingly, it may work within minutes of taking it. When taken consistently with meals, individuals may see an improvement in digestion within a relatively short period of time.
Does it contain gluten, dairy or soy?
No. Plus, it is 3rd party verified gluten, dairy and soy free.
Can I take Pure Enzymes with other Essential Stacks products?
Yes, in particular, it pairs well with our Upgraded Betaine HCL.
If I take Pure Enzymes, do I need Upgraded Betaine HCL?
Pure Enzymes helps digest all foods. Whereas Upgraded Betaine HCL is specifically helpful for meals that contain a significant amount of protein and/or fat, e.g. 20 grams or more. Many of our customers report enhanced digestion when taking both products. i.e. Upgraded Betaine HCL helps do the heavy lifting with protein and fats, while Pure Enzymes finishes the job, and of course helps with carbohydrates digestion.
Can children take Pure Enzymes?
We like to err on the safe side when it comes to children. So please consult with your child's healthcare provider to determine if enzymes are okay for them and what the appropriate dose would be.
Can pregnant or nursing mothers take Pure Enzymes?
Since research involving expecting- and breastfeeding mothers taking enzymes is limited, we recommend you consult your physician before using this or any dietary supplement.
Are any medical issues contraindicated?
If you have any medical issues, please consult your physician before using this or any dietary supplement.
Can I take it with my medications?
If you are taking any medications, please consult your physician before using this or any dietary supplement.
See Why People Love
Pure Enzymes
Customer Reviews
Write a Review
Ask a Question
09/09/2023
Francesco S.

United States
Extremely Helpful
There have been moments when I was experiencing nausea and other unpleasant symptoms, and this product made me feel better almost right away. If you're striving to improve your gut health, I highly recommend giving Pure Enzymes a try. It can be an amazing resource.
09/06/2023
Angelina S.

United States
MIRACLE!!!
I absolutely love this product, best 20something dollars i've ever spent. i've had a bloating problem for so long now, i felt hopeless because i couldn't figure out how to make it better. i've tried everything and changed diet etc. until i looked up on youtube the difference between probiotics and digestive enzymes and Essential Stacks' video came up. super informative and made me feel better about these supplements. my package came quickly and i can finally eat a full meal without feeling awful and looking like im about to go into labor!!! thank you so much for this im so happy.
08/27/2023
Edith M.

United States
Works Perfect for me.
I really needed this product, and hope I can always get it again when I run out of it.
08/24/2023
Gregg M.

United States
Helps with digestion
I take one before a meal and it speeds digestion
08/11/2023
S R.

United States
Pure Enzymes are Pure Performance
Every morning with breakfast, one capsule to aide my gut biome has improved my digestion and I am now at a great and healthy weight!
07/28/2023
Francesco S.

United States
Outstanding Health Product
On multiple occasions, this product has helped me when I was experiencing nausea. It's truly remarkable how quickly it can work. I suspect that there are many people in the world who could benefit from Pure Ezymes, but continue to suffer because they haven't been educated about the topic of gut health. I highly recommend this product to anyone who's on the fence about trying it.