Last Updated:
How Much Fiber Per Day - Women vs Men (2023)
If you've been eating a diet like the Tik Tok infamous "liver king", well, then chances are you probably aren't getting enough fiber every day. But if you're any kind of normal person, then you probably enjoy some nice veggies, fruit and other carbs each day, meaning you're eating some fiber. But is it enough? And how much fiber should you really be eating to support your gut and overall health? Let's find out!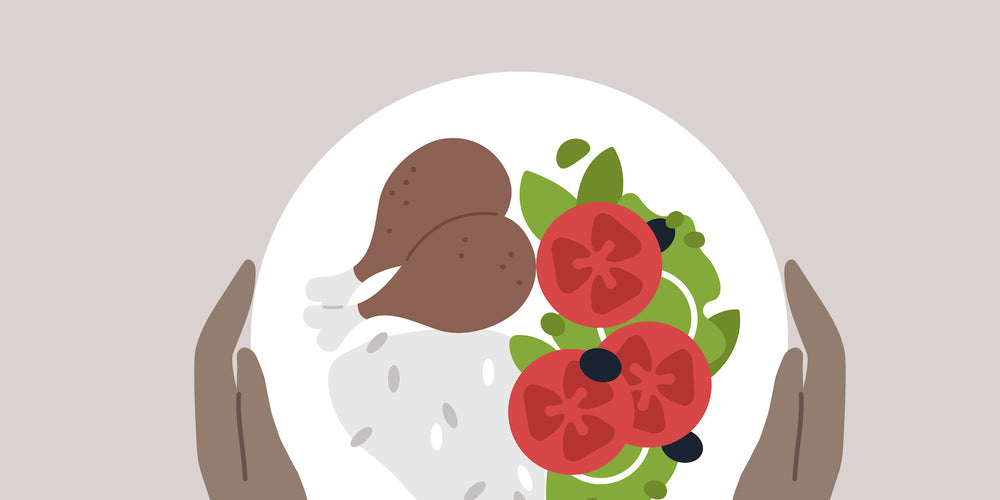 Fiber may just be one of the most important nutrients for your diet, as we'll look at in a minute.  And based on national surveys, most people actually think they're eating enough fiber. 
But here's the thing...in the United States, it's recommended that we eat 14 grams of fiber for every 1,000 calories. 
That means...
Women should be eating 25 grams of fiber per day
And men should be consuming 38 grams of fiber per day
Now just before we move on, it's worth noting that this fiber target changes depending on your energy or calorie requirements, which is of course based on your gender and age.  
And to save you time trying to figure out what this looks like for yourself, our research team dove into this riveting read on dietary reference intakes and ran the numbers for you. And here's what we found…
How Much Fiber Should We Eat?
Women
Under 50 = 25 grams fiber
Over 50 - who are eating less calories = 21 grams fiber
Men
Under 50 = 38 grams fiber
Over 50 = 30 grams fiber
Mamas
And lastly, let's not forget about our mamas out there…after all, you will have higher energy requirements than normal  
Pregnant = 28 grams of fiber per day
Lactating = 29 grams of fiber per day
So now we know the fiber targets, the big question becomes…are you eating enough fiber every day?
How Much Fiber Are We Actually Eating?
Well, it turns out just 5% of the population is currently meeting these recommendations, with most of us eating only 50% of the recommended amount. 
And that's a big deal since fiber impacts practically EVERYTHING, ranging from our bowel regularity, to risks of cardiovascular disease, type 2 diabetes, and even certain cancers.  
To make the situation even more dire, there's currently a debate raging over whether current fiber recommendations are even HIGH ENOUGH! 
You see, it turns out the recommendations we just ran through were only set at the level needed to protect heart health. But now some experts believe prevention of colon cancer, as well as other health issues, may require even more fiber intake.
Some experts are even suggesting we need to move the broad fiber intake target upwards of 50 grams per day! 
Given American fiber intake is so far below the current standard, let alone this new proposed level…fiber has been deemed a public health concern.  And look, I don't want to go Kardashian levels of drama on you, but let's be honest - the fiber problem is not just a concern, it's a public health crisis. 
And so while fiber has usually just been the focus of uncomfortable conversations with your prune-loving grandma, we want to talk openly about it, as it deserves. 
In fact, we believe that increasing fiber intake in your diet may be one of the most IMPACTFUL changes that you can make to improve your overall health, not just your gut health.
And to help you do this, we've created a free Top 100 Fiber Foods Checklist.  And I think you'll love it because…
It ranks all the foods from highest fiber content to lowest
Plus you can filter it by food group - for example, if you just want to look at the best high fiber fruits to add to your diet, you can
And it even shows you what an ideal serving size is for each food
How To Eat Enough Fiber
So we've talked about how much fiber you should be eating.  But let's be honest: none of us are sitting around calculating the fiber content of every meal we eat like some sorta My Fitness Pal maniac.
Which means, you might be - understandably - struggling to picture what sort of food you need to eat on any given day to hit the fiber targets.  
So now, let's look at what a day of eating enough fiber looks like.  In other words, what would you be eating for breakfast, lunch and dinner, and for snacks?
To keep this fun, we'll build out a day of eating for both women and men alongside each other - so you can get a good idea of how they compare.
And don't worry, there won't be a prune in sight!
Also, just so you know, we are not endorsing this as a perfect day of eating.  But rather simply to illustrate just how many fiber rich foods you need to include to hit the targets.
Let's go!
Sample High Fiber Meals
| | | |
| --- | --- | --- |
| Meal | Women | Men |
| Breakfast | 1 cup whole-grain bran flake cereal (5gm fiber) with half sliced banana (1.5gm fiber) with skim milk= 6.5 grams fiber | SAME, but add ¼ cup chopped almonds (4.5gm fiber)= 11 grams fiber |
| Morning snack | small apple (3.6 gm fiber) and 2 tbsp peanut butter (1.8gm fiber)= 5.4 grams fiber | SAME, but go for a medium size apple (4.4 gm fiber)= 6.2 grams fiber |
| Lunch | Turkey sandwich with 2 slices whole wheat bread, lettuce and tomato (5gm fiber) with orange (3.1gm)= 8.1 grams fiber | SAME |
| Dinner | Grilled salmon with 1 cup broccoli (1.6 gm fiber) and half cup brown rice (1.6gm fiber)= 3.2 grams fiber | SAME, but swap the rice for side cooked spinach (2.1 gm fiber) and ½ cup lentils (7.8 gm fiber)= 11.5 grams fiber |
| Evening snack | 2 cups popcorn= 2.3 grams fiber | SAME |
| Total Fiber | 25.5 grams | 39.1 grams  |
So let's kick off with breakfast
For women it might look like…

1 cup of whole-grain bran flake cereal with half a sliced banana and skim milk.  This would give us 6.5 grams of fiber.

And for men…

Well, you get to eat the same, but you just need to add a ¼ cup of chopped almonds to it, making it 11 grams of fiber.
Now, for morning snacks…
Women

It's 1 small apple and 2 tbsp of a nut butter, which will deliver 5.4 grams of fiber.

And for men

Once again, you get to eat the same, but with a slight adjustment…meaning you would go for a medium size apple, giving you 6.2 grams of fiber
Okay, so now onto lunch
Women and men, guess what…we're both eating the exact same here!  So that could look like a turkey sandwich with 2 slices whole wheat bread, lettuce and tomato, plus an orange on the side, giving a solid 8.1 grams of fiber 
Now, what about dinner?
Well, ladies…you can enjoy grilled salmon with 1 cup of broccoli for 1.6 grams fiber and half a cup of brown rice for 1.6 grams fiber.
And for men…keep the salmon, but swap the rice for a side of cooked spinach, and a half a cup of lentils, to give you 11.5 grams of fiber
Finally, what about an evening snack?
Well, to get us all to our total fiber targets, here women and men can both enjoy 2 cups of popcorn, as that will add a solid 2.3 grams of fiber to the day.
And once again, this is not a perfect day of eating by any means, but it should give you a good idea of how fiber-rich foods…need to be incorporated into all meals in order to hit your total target for the day.
Increase Your Fiber…Slowly
Now before you go full Cookie Monster on high fiber foods, it's important to increase your fiber intake slowly.   Because if you go too fast, you might experience symptoms such as bloating, gas, and loose stools.  And that is one sure fire way to end up hating fiber!
So the key is to gradually increase your dietary fiber to the recommended amount.  And to do this, it's best to first estimate your average daily fiber intake. From there, add 5 grams of fiber to your daily diet, and increase it by an additional 5 grams each week, until you're meeting the recommended intake.
And of course, to make all of this super easy, check out our free Top 100 Fiber Foods Checklist where you'll finally be able to see at a glance, exactly which foods deliver the best bang for your fiber buck!
Now we want to hear from you: what is your favorite high fiber food?  Let everyone know by leaving a comment below.
Evidence Based
An evidence hierarchy is followed to ensure conclusions are formed off of the most up-to-date and well-designed studies available. We aim to reference studies conducted within the past five years when possible.
Systematic review or meta-analysis of randomized controlled trials
Randomized controlled trials
Controlled trials without randomization
Case-control (retrospective) and cohort (prospective) studies
A systematic review of descriptive, qualitative, or mixed-method studies
A single descriptive, qualitative, or mixed-method study
Studies without controls, case reports, and case series
Animal research
In vitro research