Last Updated:
28 Benefits Of Probiotics - According To Science
We reviewed 100s of studies to find out what probiotics actually can and can't do for your health.  Finally, you'll be able to sort fact from fiction.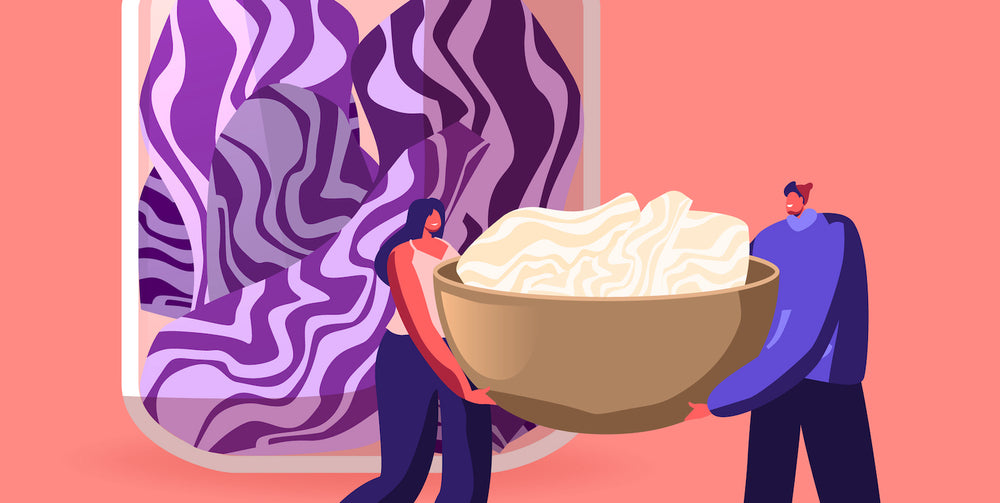 Briefly, what are probiotics?
Probiotics are defined as live microorganisms, which when administered in adequate amounts, confer a health benefit to the host.1
Applications of probiotics range from common uses such as ingestion for gastrointestinal health, to less common uses such as oral, intravaginal, or topical uses.2
The most commonly used probiotics are Lactobacillus, Bifidobacterium, Bacillus, Escherichia coli strain Nissle 1917, certain Enterococci, and the yeast Saccharomyces boulardii.3,4
How Do Probiotics Work? 
Probiotics have shown significant therapeutic potential for a variety of issues, particularly gastrointestinal diseases, but also for a number of health concerns outside of the gut.

5

,

6 

While probiotics can vary greatly in therapeutic function from one species or strain to the next, some widespread core benefits have been observed in many studied probiotic types.

7
Part I: Widespread benefits in studied probiotics
Protection Against Pathogens
Probiotics may help to keep harmful pathogens at bay by producing an acidic environment in the gut which pathogens find unfavorable. Probiotics may also bolster the immune system, allowing specialized immune cells to better manage the threat of pathogens through a number of protective mechanisms.
Similarly, probiotics can out-compete harmful microbes by using up their preferred nutrients, or by taking up space where pathogens might typically "live" in the gut, preventing them from colonizing the intestinal lining.
Sometimes probiotics can even adhere to the pathogen itself, or even create antimicrobial compounds to defend against or lessen the pathogen's harmful effects.8,9
Balancing and Restoring the Perturbed Microbiota
Oral probiotics can help to maintain or restore microbial balance in the gastrointestinal tract by temporarily increasing the populations of beneficial bacteria, while keeping in check the growth of pathogens.
Notably, minimal lasting microbiome changes occur after oral probiotic intake, but these short-term helpers can still produce beneficial metabolites which help to stabilize the gut ecosystem.10
Turnover of Enterocytes -- Important Cells in our Intestinal Lining
The intestinal tract is responsible for nutrient digestion and absorption, secretion of mucus and hormones, interactions with our resident microbiota, and protecting us from pathogenic microbes. 
Enterocytes, which represent the majority of cells in the intestinal lining (epithelial layer) constantly migrate, and are shed off every 3–5 days.11 Probiotics work to protect the cells lining our intestinal tract in a number of ways, including resisting untimely cell death from apoptosis or other injurious effects, and improving intestinal barrier function.12 
Regulating Intestinal Transit
Probiotics have been found to improve intestinal transit. This has been demonstrated in commonly studied probiotics such as
Lactobacillus
and
Bifidobacterium
species which have been shown to improve intestinal transit in constipated adults.
13
Production of Short Chain Fatty Acids (SCFAs)
SCFAs play a very important role in lowering intestinal pH, increasing the absorption of calcium, iron, as well as magnesium, and are beneficial for carbohydrate and protein metabolism in the liver.
In addition, these acids affect the maintenance of the normal structure, integrity and function of the intestine, and show significant anti-inflammatory activity in the gut and body-wide.
SCFAs are the primary source of energy for the cells in our colon called colonocytes. They also inhibit the development of pathogenic microorganisms such as Escherichia coli, Salmonella, or Campylobacter, competing for colonization sites. One short chain fatty acid called butyrate, or butyric acid, has been shown to stimulate the production of mucus, which forms a protective layer over the intestinal lining, helping to avoid contact with toxins and pathogenic microorganisms.14
Abnormally reduced intestinal levels of SCFAs or SCFA-producing gut bacteria are often found in patients with inflammatory bowel disease (IBD), obesity, type 2 diabetes, and autoimmune diseases.10
There are also frequently observed or even rare benefits from probiotics which require a more targeted administration approach. In these cases the exact probiotic species or strain must be used when trying to achieve the desired beneficial effect.
Part II: Frequently observed benefits at species level
Creation of Vitamins
A number of microbial species have the ability to synthesize vitamins, including B vitamins such as B1, B2, B6, B9, B12, vitamin K, and others.
14
Neutralization of Cancer-Causing Compounds
Certain probiotics may bind or coat (adsorb) carcinogens to neutralize their effects. Probiotics might also aid in the detoxification or transformation of foreign chemicals by converting them into less toxic compounds, as well as by slowing down the conversion of "pro-carcinogens" which are compounds that can convert to carcinogens in the body.
Additionally, certain probiotics might be protective against cancer, particularly colon cancer, by enhancing the immune system, shifting the behavior and metabolism of our resident microbiota, and lowering intestinal inflammation.16
Bile Salt Metabolism
Probiotic microbes may interact with bile salts, working to 'deconjugate' bile acids by removing certain proteins from the bile acid complex. Bile is produced in the liver from cholesterol and works
as a detergent that emulsifies and aids the absorption of fats
.
17
Deconjugation of bile acids by probiotics leads to an increase of bile salt excretion through stool, and also increases the demand for internal cholesterol production, thereby potentially lowering cholesterol levels in the body.
17
Gut Barrier Reinforcement
A compromised intestinal barrier is associated with several human gut-related disorders such as IBD, necrotizing enterocolitis, and low grade inflammation associated with metabolic syndrome (obesity and insulin resistance). In addition, several other diseases also appear to be associated with a 'leaky' gut, including the post-infectious subtype of IBS, and possibly also allergies.18 

Certain probiotics and their byproducts influence gut barrier function, by altering mucus production, reducing adhesion of pathogens, enhancing the barrier fortifying tight junctions between intestinal cells, improving cell survival, and immune effects.19
Enzymatic Activity
Certain species of probiotics such as L. acidophilus, L. reuteri, L. rhamnosus, and L. bulgaricus, S. thermophilus, and B. longum have been shown to produce enzymes which aid lactose digestion.20
Additionally, some probiotic species are able to synthesize digestive enzymes such as amylase, lipase, proteases, and others.1
Direct Antagonism of Pathogens
Probiotics may antagonize and prevent harmful effects of pathogens through a number of mechanisms. 

Some Bifidobacteria and Lactobacilli species prevent adhesion of pathogenic bacteria by secreting antimicrobial compounds called bacteriocins.12

Additionally, the probiotic yeast, S. boulardii enzymatically destroys or helps to lessen the effects of toxins produced by C. difficile, pathogenic forms of E. coli, and V. cholera toxin by creating 3 specific anti-toxin compounds (serine proteases, 63 kDa phosphatase, and 120 kDa protein)21  
Part III: Rare strain-specific effects

Neurological Effects
Specific strains of probiotics have been used as a complementary treatment for a range of neurological or psychological effects including: anxiety, depression, OCD, memory abilities, and chronic fatigue syndrome, to name a few. It has been suggested that the modulation of the gut microbiota with specified probiotic strains may offer a novel approach for the treatment and prevention of mood and anxiety disorders.
22
Immune Effects and the Production of Specific Bioactive Compounds
Probiotics may secrete or release an array of bioactive compounds which interact with and alter the immune response.
These bioactive substances include, but are not limited to, cell structural components (e.g. lipoteichoic acid and exopolysaccharides), peptides, and so forth.23
Endocrine Effects
The influence of the microbiota in regulating metabolic activity is now recognized with increasing evidence suggesting involvement in blood sugar and weight regulation.
With continued understanding of the key microbes involved in endocrine regulation, some have noted it may be possible to use specified probiotics to treat or prevent endocrine disruptions such as metabolic syndrome.24
Part IV: Meta-analyses findings

While the study of beneficial health effects from probiotics is vast and constantly evolving, certain areas of probiotic research have garnered a significant body of evidence. 

Most notably, a variety of meta-analyses* have been conducted on the study of metabolic diseases, gastrointestinal diseases, respiratory tract infections, urogenital infections, and for central nervous system effects, amongst others.

25 

*A meta-analysis is a type of study which analyzes a number of similarly designed research studies to get a more clear idea about a given subject or study intervention.

Highlighted below are beneficial impacts of probiotics for several well-researched health concerns and diseases. It's important to note that this information has mostly been derived from meta-analyses, which can offer a broad and general perspective on probiotics as a whole, but can sometimes miss important specifics such as strain specificity necessary for a targeted health effect.

26

 
Metabolic Issues
Type 2 Diabetes
Five meta-analyses investigating the use of probiotics in individuals with type 2 diabetes found a significant reduction in fasting blood sugars (plasma glucose) and a significant reduction in a long term marker of blood sugar control called hemoglobin A1C.25
Dyslipidemia
Four meta-analyses have found that taking probiotics results in a significant reduction in total cholesterol and LDL ("bad") cholesterol in individuals with dyslipidemia. No improvements were seen for HDL ("good") cholesterol. 
In these studies, Lactobacillus Acidophilus appeared more effective than the other species of probiotics in the reduction of total and LDL cholesterol.25
Hypertension (High Blood Pressure)
A meta-analysis on the use of probiotics for hypertension found an improvement in systolic and diastolic blood pressure, especially for individuals with a baseline blood pressure  ≥ 130/85 mmHg.
Overweight/Obesity
Two separate 2015 meta-analyses on the effects of probiotics for the reduction of body weight and body mass index (BMI) revealed conflicting results.
One meta-analysis concluded that multi-strain probiotics when taken for >8 weeks resulted in a significant reduction of body weight and BMI. The other meta-analysis did not confirm these findings, suggesting no effects of probiotics on BMI or weight loss.25
Gastrointestinal Tract Issues
H. pylori infections 
Six meta-analyses including children and adult study participants have shown improvements in H. pylori eradication when probiotics are used alongside traditional eradication therapies.25
A major reason for standard (non-probiotic) treatment failure in these patients is the common occurrence of side effects (diarrhea, nausea, vomiting) associated with the standard antibiotic combination treatments for H. pylori, resulting in high rates of non-compliance and failure to complete the entire 10–14 days of therapy.
The most valuable use of specific probiotics in these patients is not the direct eradication of H. pylori, rather, it is for the reduction of these side-effects, which allows patients to complete the full course of therapy.26  
A separate review study evaluating specific beneficial strains for the adjuvant use in

H. pylori

eradication therapy revealed the following: 
A mixture of

L. helveticus

R52 +

L. rhamnosus

R11 had strong evidence for the eradication of

H. pylori

  infections in at least two trials.  

Three other types of probiotics  including

S. boulardii

I-745,

L. reuteri

55730, and a mixture of

L. acidophilus

La5 +

B. animalis spp. lactis

Bb12 also had at least two randomized controlled trials showing a significant reduction in

H. pylori

.

26

  
IBD (Irritable Bowel Disease)
A 2017 review article evaluating 22 randomized controlled trials found that the probiotic blend, VSL#3 may be effective in inducing remission in active ulcerative colitis and may be as effective as the medication class, 5‐ASAs, in preventing relapse of ulcerative colitis. However, the efficacy of probiotics in Crohn's disease remains uncertain.

28

 

A separate strain-specific review study of 13 randomized controlled trials reported the following regarding probiotic strains for IBD:
A probiotic strain blend called VSL#3 and

S. boulardii

I-745 were found to produce significant improvement in IBD symptoms.

The strongest evidence was found for the VSL#3 mixture (

B. breve

BB02,

B. longum

BL03,

B. infantis

BI04,

L. acidophilus

BA05,

L. plantarum

BP06,

L. paracasei

BP07,

L. helveticus

BD08,

Strept. thermophiles

BT01), with a net of six trials with significant efficacy for the treatment of IBD.

26

 
IBS (Irritable Bowel Syndrome)
A meta-analysis regarding the effectiveness of probiotics in reducing the pain and severity of IBS symptoms demonstrated a beneficial effect of probiotics compared with placebo.
25
A separate strain-specific review which evaluated 21 randomized controlled trials of probiotics for the management of IBS found three probiotics had more significant trial outcomes compared to non-significant trial outcomes for IBS. These strains included
B. infantis
35624,
L. plantarum
299v, and a 4-strain mixture of
L.rhamnosus
GG +
L. rhamnosus
LC705 +
B.breve
Bb99 +
Prop. freudenreichii shermanii
Jc.
Other studied probiotics including
S. boulardii
I-745, VSL #3, and
L. rhamnosus
GG revealed equal numbers of significant and non-significant trial outcomes.
26
Constipation
A meta-analysis conducted on the use of probiotics to improve intestinal transit, evacuation frequency, and consistency of the feces found beneficial effects of
Bifidobacterium Lactis
in particular for constipation.
25
Antibiotic associated diarrhea
A 2015 Cochrane review emphasized that the use of probiotics in pediatric patients may have a pivotal role in preventing antibiotic-associated diarrhea. In particular,

Lactobacillus rhamnosus

and

Saccharomyces boulardii

taken in the quantity of 50

11

colony forming units/day have proven useful, and also carry a low probability of adverse events.

25

A separate strain-specific review identified the following probiotics as helpful in adult antibiotic-associated diarrhea (AAD) as evidenced by more significant trial outcomes than non-significant outcomes. * (Number of significant trials +/ number of non-significant trials -)

26
S. boulardii

I-745 *(11+/6-)

Lactobacillus acidophilus

CL 1285 +

Lactobacillus casei

LBC80R +

Lactobacillus rhamnosus

CLR2 *(4+/0-)

L. casei DN114001 *

(2+/0-)

Enterococcus faecalis

SF68 *(2+/1-)

Lactobacillus reuteri

55730 *(2+/1-)
For pediatric AAD,

S. boulardii

I-745 proved to be the most substantiated probiotic with 7 significant trial outcomes and only 3 insignificant outcomes.

26
Clostridium difficile infection 
Other Health Issues
Respiratory Tract Infections
A 2015 Cochrane review found that probiotics were better than placebo in reducing the number of people who had episodes of acute upper respiratory tract infections, as well as in reducing the average episode length of infection, and in reducing the use of antibiotics and the number of days out of school or work.25
Depression and Anxiety
A 2020 review study which compiled the results of 23 trials found that probiotics positively affected depressive and anxiety symptoms according to 53.83% and 43.75% of the selected studies, respectively.
30
Urogenital Health
A 2016 review study on probiotics for the treatment of urogenital infections in women focused on bacterial vaginosis (BV), urinary tract infections (UTIs), vulvovaginal candidiasis (yeast infections), and human papillomavirus (HPV). All interventions contained at least one strain of

Lactobacillus

, though probiotics were not administered uniformly amongst studies, with some provided either orally or vaginally.

31

Both administration tactics had demonstrated efficacy, so no conclusions were made regarding optimal administration strategy.

31

Probiotic interventions were found to be effective for the treatment and prevention of BV, prevention of recurrences of yeast infections and UTIs, and clearing HPV lesions. There were no reported significant adverse events related to the probiotic intervention. The study authors concluded that probiotic interventions were effective in the treatment and prevention of urogenital infections as alternatives or co-treatments, but noted that the quality of analyzed studies varied. More good quality research is needed to strengthen the body of evidence needed for application by clinicians.

31

 
Acne vulgaris
A 2020 review concluded that numerous studies suggest probiotics may work as an adjunct therapy either topically or orally for managing acne by directly preventing the growth of opportunistic bacteria or by controlling inflammation.32
One study showed that consumption of Lactobacillus acidophilus, Lactobacillus delbrueckii bulgaricus and B. bifidum was as effective as minocycline in the treatment of acne, with 67% lesion reduction after 12 weeks and fewer side‐effects. A combination of this oral probiotic and minocycline had even greater effectiveness.33
Another study showed a 30% reduction in inflammatory lesions after daily consumption of L. bulgaricus and S. thermophilus for 12 weeks.33
A recent study revealed that patients receiving oral L. rhamnosus SP1 for 12 weeks exhibited significant improvement of their back acne compared with placebo.33
Summary and Important Takeaways: 
Widespread benefits amongst studied probiotics include protection against pathogens, balancing and restoring a perturbed microbiota, improved intestinal cell (enterocyte) turnover, regulation of intestinal transit, and production of acids or short chain fatty acids.

More targeted species or strain-specific benefits might include: creation of vitamins, neutralization of cancer-causing compounds, bile salt metabolism, reinforcement of the gut barrier, enzymatic activity, direct antagonism of pathogens, neurological effects, immune effects, and endocrine effects. 

These actions can result in probiotics working against harmful pathogens, creating an improved intestinal environment, bolstering the intestinal barrier, lowering inflammation, and boosting our  immune response to challenges and external threats. These mechanisms are thought to produce most of the beneficial effects from probiotics. 

The study of probiotic use in humans has massively expanded, and as such, the health benefits mentioned here are just a glimpse at some of the areas of study of probiotics for human health. Since the goal was to provide a broad and general overview, mostly meta-analyses were discussed.

Notably, future research and meta-analyses will need to zero-in on specific probiotic strains or strain combinations used for a given population or disease process in order to draw more firm conclusions about the benefits of probiotics. 

Likewise, while medical science generally draws stronger conclusions from reviewing a large number of studies or study participant outcomes, the nature of our individually diverse microbiota may in the future require an "n=1" approach to identify microbiome characteristics of probiotic responders and non-responders. 

This could be especially important for advancements in therapeutic uses of probiotics, as non-responders or inappropriate strain applications could potentially skew study results in such a way as to mask benefits for certain individuals or populations.  

Given these reasons, it is imperative to work with a qualified care provider to choose specific probiotic species, strains, or strain blends with demonstrated benefits for your individual needs. 
Evidence Based
An evidence hierarchy is followed to ensure conclusions are formed off of the most up-to-date and well-designed studies available. We aim to reference studies conducted within the past five years when possible.
Systematic review or meta-analysis of randomized controlled trials
Randomized controlled trials
Controlled trials without randomization
Case-control (retrospective) and cohort (prospective) studies
A systematic review of descriptive, qualitative, or mixed-method studies
A single descriptive, qualitative, or mixed-method study
Studies without controls, case reports, and case series
Animal research
In vitro research